Water Pump, Water Tank & Well Services
Since 1969, Ackerson Pump Company has been a local staple in the New Jersey community, providing quality water pump, water tank, and well services. As your local pump company, we can address any issues or concerns related to your water pumps, wells, and tanks. If you're in need of a water pump replacement, contact us today at (973) 827-6088 to schedule an appointment.
Water Pumps
Sump Pumps
Jet and Well Pumps
Constant Pressure Pumps
Pump Repair & Installation
Water Wells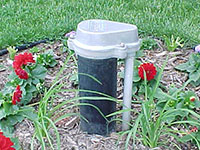 Well Repair
Well Chlorination
Well Service
Water Well Treatment
Customer service has remained one of our top priorities, as has been giving back to the community. We're members of the
New Jersey Ground Water Association
and the Sussex County Chamber of Commerce. We also support the community First Aid Squads by donating our work and providing any parts to them at cost. As a family-owned company, we like to do business the old-fashioned way: with a handshake and a smile. We're available 24/7 for emergencies, and you can reach at
(973) 827-6088
with questions or to schedule an appointment.
At Ackerson Pump, we do all things well.
Reliable Water Pump Services
Like our name says, Ackerson Pump is all about water pump replacement and pump service. We install and service sump pumps, submersible pumps, jet pumps, and constant pressure pumps. We're also experts at retrieving lost water well pumps that, due to accidents or other circumstances, fall into the well. We use only quality products for all of our pumps, including our popular submersible pump products.
Experienced Well Inspectors
When purchasing a home in Newton, Parsippany, Morristown, or Paterson, NJ, it's always best to have an inspection to check out the quality of the home you've fallen in love with. What most people don't realize is that home inspectors are not licensed to do well inspections like we are. Let Ackerson Pump Company complete this important task for you. Water is the lifeline of your home, and you don't want to find any issues later. Don't take a chance that something could go wrong due to an old or faulty piece of equipment. With our well inspection service, we'll check out the entire system for you in just one to two hours and let you know of any recommendations for services.
Testing Water Wells
Do you suspect a problem with your water well? Whether you need a new well installed or our well water treatment services, we can help you. We'll take care of all well concerns including raising well casings, replacing and running well lines, chlorinating wells, determining well flow measurement using sonar-based meters, testing pump wells, and locating wells.
Contact Us Today!
Wide Selection of Water Tanks
Water tanks are important to the entire well system. Ackerson Pump Company carries fiberglass Flexcon and steel Amtrol WELL-X-TROL tanks. Quality is built into every facet of these steel water tanks. Ackerson Pump Company uses only brass fittings, ensuring excellence throughout the product.

Rest assured, you can trust Ackerson Pump Company with all your water pump, water tank, and well water treatment needs in New Jersey. Our quality products, outstanding work ethic, and convenient services make us a favorite with our new and returning customers. Contact us today at (973) 827-6088 with any questions or to schedule an appointment. Located near Sussex, we serve the following counties of New Jersey: Bergen County, Morris County, Passaic County, Warren County, and Sussex County.