Bergen County Water Tanks
Ackerson Pump Company has been providing Bergen County and the surrounding areas with water well, water pump, and water tank solutions since 1969. Over the years, we've become a staple within the Bergen County community and beyond and have made giving back to our customers a top priority. As members of the New Jersey Ground Water Association as well as the Sussex County Chamber of Commerce, you can count on Ackerson Pump Company to provide the highest quality of craftsmanship coupled with reliable customer service. Contact us at (973) 827-6088 for professional assistance with water wells, water pumps, water tanks, and more!
Water Pumps
Sump Pumps
Jet and Well Pumps
Constant Pressure Pumps
Pump Repair & Installation
Water Wells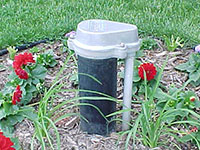 Well Repair
Well Chlorination
Well Service
Water Well Treatment
Submersible Pump Installation
If you live in Bergen County or a surrounding area, and you find that your home is lacking some of the municipal water services, call Ackerson Pump Company. We can assist you with all your water tanks, water pump and water well needs. Contact us today at (973) 827-6088 for more information or to set up an appointment.


Contact Us Today!
We've found that on average that our submersible well pumps last as long as 18 to 20 years. An important factor in extending the lifespan of your submersible well pump is making sure it is properly sized and installed. At Ackerson Pump Company, we'll size the pump by taking into consideration the following factors:
Ensuring adequate water pressure
Addressing low well capacity
Calculating the gallons/minute of water needed during peak periods at your home
Ackerson Pump Company is known for our quality craftsmanship, exceptional work ethic, and hometown customer service. So, whether you need a
submersible water pump
or a
well inspection
,
contact us
today.
Reliable Jet Pump Service
If you are in need of jet pump services in Bergen County, look no further! A jet pump uses atmospheric pressure to create suction and draw the water out of your well and into your house. Our specialist will determine whether or not a jet pump is appropriate for your yard and if so, install a jet pump for you in a professional and timely fashion.
Ackerson Pump Company can handle all your water pump replacement or water tank issues in the following NJ areas: Bergen County, Sussex County, Passaic County, Morris County, and Warren County. You can count on us at any time of day or night with 24/7 emergency service so contact us at (973) 827-6088.