Sussex County Water Pumps
If you're a homeowner that lives without some of the typical municipal water services in Sussex County or the surrounding counties, then Ackerson Pump Company is the company to help you. Contact us for all your water pump, water tank, and water well needs.
Water Pumps
Sump Pumps
Jet and Well Pumps
Constant Pressure Pumps
Pump Repair & Installation
Water Wells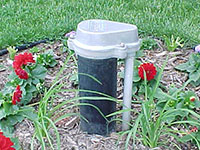 Well Repair
Well Chlorination
Well Service
Water Well Treatment
When you have a private well on your property providing all the water for your family, it's important to be sure that it is functioning properly and safely. As a family-owned company, Ackerson Pump Company has been invested in Sussex County since 1969. As such, we are members of the
New Jersey Ground Water Association
and the Sussex County Chamber of Commerce. We also support the New Jersey First Aid Squads by donating our work and providing any parts to them at cost. 
Contact us
at
(973) 827-6088
with questions about water tanks, any of our other services, or to schedule an appointment.
Water Pump Replacement
If you need a submersible water pump or a jet pump for shallow wells, Ackerson Pump Company can perform a well pump replacement that'll last for years. We carry the Gould, Sta-Rite, and Grundfos lines of water pumps. We'll assess your property and your water demand needs in choosing whether a submersible pump or jet pump is the best choice. If you have issues with water pressure, then a constant pressure pump may be a good option. Whatever
Well Inspections
At Ackerson Pump Company we offer a service for tank and well inspections in Sussex County, Bergen County, Morris County, Passaic County, and Warren County. This is an especially valuable service to prospective homebuyers, because general home inspectors aren't licensed to do well inspections. Before purchasing a home with a well, it's important to make sure it's functioning properly, in good condition, and will last a long time. Ackerson Pump Company can complete your well inspection in Sussex County or surrounding counties in just one to two hours and then let you know of any recommendations.
24/7 Services Available — Contact Us Now!
Water Wells
When looking for well services, Ackerson Pump Company is your NJ expert. We know water wells and can take care of the following water well concerns:


Raising well casings
Replacing and running well lines
Chlorinating wells
Determining well flow measurement using sonar-based meters
Testing pump wells
Locating wells
Water Tanks
Ackerson Pump Company can come to the rescue if you're looking for a water tank in Sussex County or the surrounding areas. We carry both fiberglass Flexcon and the steel top-of-the-line Amtrol WELL-X-TROL water tanks. We use only brass fittings with these products, ensuring quality throughout. Don't take a chance with an inferior product or another company. We can install your water tank or service an existing one.

Ackerson Pump Company is proud to serve Sussex, NJ, and the surrounding areas including the cities of Newton, Parsippany, Morristown, and Paterson, NJ. You can count on us at any time of the day or night with our 24/7 emergency services. Customers love our quality products, outstanding work ethic, and friendly, convenient service. Whether you need a water pump replacement or service for your well, contact us at (973) 827-6088 with any questions or to schedule an appointment. At Ackerson Pump Company we do all things well.